D2S@Ulysseus partners were invited to Nice from 27 to 28 June, as part of the Digital Week organised by Université Côte d'Azur, to hold the first D2S Multiplier Event.
The Digital Week organised by UCA gathered 150 international participants, representing 50 universities in 24 countries, around various activities on digital innovation: round tables and workshops on online education, metaverse, virtual reality, hybrid games and learning activities, hybrid mobilities…
That was the perfect opportunity for the D2S@Ulysseus project partners to meet and share Digital Soft Skills results to the public. On the agenda:
Holding a hybrid D2S@Ulysseus consortium meeting for partners to review the project progress in preparation of the launch of the D2S course series scheduled for late 2022.

Presenting the project for the first time to the Digital Week international stakeholders, including the methodologies applied and the courses developed.

Brainstorming with participants on "D2S Guidelines" for future educators and students MOOCS and on the creation of digital "Open badges" to validate the acquisition of skills for learners.

Participating in workshops and exchanges with international participants on best practices in digital education.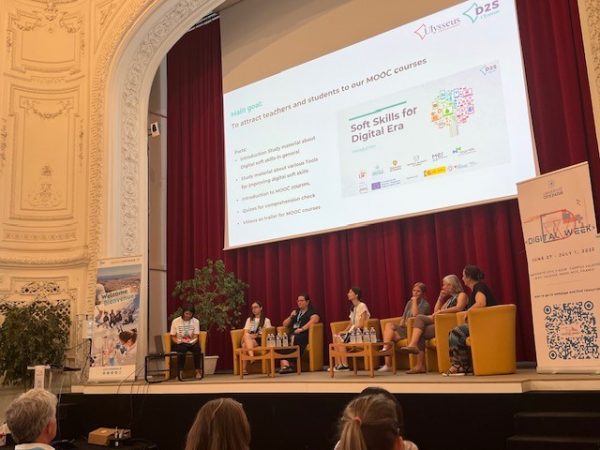 During the digital event, 90% of D2S project presentation participants said they would be interested in endorsing a D2S@Ulysseus Open Badge as an external stakeholder. 72% of participants expressed an interest in being involved in the creation of D2S Course Guidelines as user content generator.
The D2S Multiplier Event presented the first results of the project on "Digital Soft Skills", that will be a key element for the whole Ulysseus community and the general public to increase digital literacy and adapt to the digital age.
The next Multiplier Event is planned to take place in early 2022 at the Ulysseus project partner MCI | The Entrepreneurial School® in Innsbruck, Austria!
D2S@Ulysseus is a project led by Ulysseus European University partners, coordinated by Université Côte d'Azur in France, University of Seville in Spain, University of Genoa in Italy, Technical University of Košice in Slovakia, MCI | The Entrepreneurial School® in Austria, and Haaga-Helia University of Applied Sciences in Finland. Funded by the Erasmus+ programme, DigitalSoftSkills@Ulysseus aims at adapting to the digital age and developing Digital Soft Skills for students and educators.